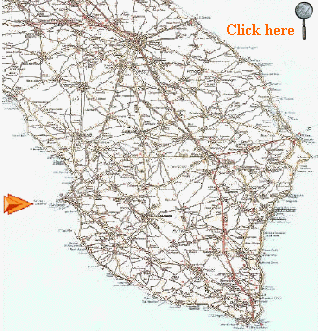 Lecce, located along the Italian heel (see map), offers a different types of sceneries as for example: arid and plain fields

, extensive centuries-old olive fields, and the most fertile field cultivated with the knowledge and wisdom of the Lecce's people.
Lecce has

suggestive and spectacular views between the limpid sea and the different kind of coast.
As for example the white sand and the beautiful rocks beach and small cliffs.

The different and continuous invasion, suffered across the last centuries from different cultures, give back to this area a rich culture and folklore, showed on the different traditional celebrations " feste patronali e sagre" during the year (principally on summer time)
On these celebrations you can find the interaction between the antique and the modern, the sacrum and the profane, as the mysterious and enchanting "tarantate", referred to the Greek mythology .

The Tarantate represents and antique popular exorcism symbolised today for a frenetic folk dance with a drums rhythm.
The colours, the art, the sea, the food, the hospitality, are a good reasons to encourage the national and foreigner visitors to this noble and antique land.